Mahindra, A Big growing name in this highly competitive Automobile industry. This time Mahindra wants to take himself to global scenario with fabulous looking vehicles. After there not so successful and impressive car like LOGAN, they came up with New highly improved and impressive SUV's like Scorpio or XYLO and now its super popular new SUV named Mahindra XUV 500. The most interesting thing about this car is its super grand looks. However, it makes me remember looks of Toyota Landcruiser. Since both two cars are totally different and we are not comparing them here. But just in case, if you had a wish list in which Landcruiser is there and budget doesn't allows for that, you can consider this car for sure.
Mahindra XUV 500 Review
Mahindra team had done a great work in giving competition to other cars in this segment like Tata Aria, Toyota Innova, Chervolet Captiva or even Toyota Fortuner too and that too providing a beast in a very competitive cost. Beside talking of its exterior looks, Mahindra team has put its best effort in taking its standards to a global level by aerodynamic monocoque design. The most unique thing about this SUV is that rather than manufacturing by conventional way, chasis and body of this SUV is manufactured one piece. This design is also called single shell design. This also helps more for a safer drive and is more resistant to crashes and hence more passenger safety.
Another unique thing is its transversely placed engine which increases the passenger area inside and brings more safety features for them. Keeping Engines transversely is what followed by High cost SUV currently and that is why XUV 500 is more in buzz by having this great at lower cost.
Mahindra XUV 500 Technical Specifications
| | |
| --- | --- |
| Engine | mHawk140, Direct injection diesel engine5th generation Variable Geometry Turbocharger (VGT) |
| Cubic Capacity | 2179 cc |
| Max Gross Power | 140 Bhp(103kW) @ 3750 rpm |
| Max Gross Torque | 330 Nm @1600-2800rpm |
| Gear Box | 6 speed synchromesh manual |
| Ground Clearance | 200 mm |
| Tyres | P235/65 R17, Radial Tubeless |
| Suspension | Independent Suspension |
| Front | McPherson type with anti-roll bar |
| Rear | Multilink type with anti-roll bar |
| Brakes | All Disc brakes |
| Front | Disk & Caliper type |
| Rear | Disk & Caliper type |
| | |
| Fuel Tank Capacity | 70 Litres |
| | |
| Turning Circle Radius | 5.6 m |
| | |
| Gross Vehicle Weight | 2450 Kg |
| | |
| Vehicle Dimensions | |
| Wheelbase, mm | 2700 |
| Overall width, mm | 1890 |
| Overall length, mm | 4585 |
| Overall height, mm | 1785 |
Mahindra XUV 500 Models
Following are the models available in Mahindra XUV 500:
Mahindra XUV 500 W6 2WD (2 Wheel Drive)
Mahindra XUV 500 W8 2WD (4 Wheel Drive)
Mahindra XUV 500 W8 4WD (4 Wheel Drive)
Mahindra XUV 500 Colors
Following Colors are available on all models of Mahindra XUV 500:
Satin White
Volcano Black
Amazon Green
Mondust Silver
Tuscan Red
Opulent Purple
Dolphin Grey
Following are the images for colors of Mahindra XUV 500. Please click on images to zoom.

Mahindra XUV 500 Price List
| | | | |
| --- | --- | --- | --- |
| XUV 500 Ex-showroom Prices (In lacs) | W6 | W8 FWD | W8 AWD |
| Delhi | 11.38 | 12.79 | 13.81 |
| Mumbai | 11.31 | 12.71 | 13.73 |
| Nasik | 11.31 | 12.71 | 13.73 |
| Pune | 11.31 | 12.71 | 13.73 |
| Nagpur | 11.31 | 12.71 | 13.73 |
| Chennai | 11.55 | 12.97 | 14.02 |
| Coimbatore | 11.55 | 12.97 | 14.02 |
| Bengaluru | 11.50 | 12.92 | 13.96 |
| Cochin | 11.43 | 12.84 | 13.86 |
| Trissur | 11.43 | 12.84 | 13.86 |
| Calicut | 11.43 | 12.84 | 13.86 |
| Trivandrum | 11.43 | 12.84 | 13.86 |
| Ahmedabad | 11.56 | 12.99 | 14.03 |
| Hyderabad | 11.49 | 12.92 | 13.96 |
| Chandigarh | 11.43 | 12.84 | 13.86 |
| Ludhiana | 11.56 | 12.98 | 14.01 |
| Patiala | 11.56 | 12.98 | 14.01 |
| Jallandhar | 11.56 | 12.98 | 14.01 |
| Kolkata | 11.59 | 13.01 | 14.04 |
To Watch Mahindra XUV 500 in 360 deg motion – Click here
Mahindra XUV 500 Interior
This SUV has got some impressive stuff inside. The whole interior is quiet stylish and looks rich and do totally justice with its cost and exterior looks. Mahindra team has done great efforts in making the interior luxurious and it do have got some premium features inside. This is a 7 seater SUV which have 2 front, 3 in middle and 2 at rear. Middle seat in middle row seat is foldable as well as both seats at back are foldable to create more boot space whenever required.
The interior gives a luxurious feel with its leather upholstery and the colors are basic to give it a light mood. The 2-tone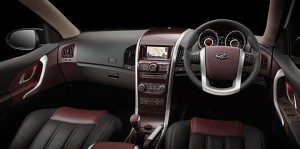 upholstery gives the interior a luxurious looks and the finishing and detailing is good as well the metal accents on door handle, steering wheel and center console also enhances this point. The bolstered front seat gives comfort even at high speed cornering and the driver seat can be adjusted in 8 different ways including lumbar support. The roof light is one of the coolest feature about it. The
round U-shaped light around the lighting buttons at roof
when turned ON, gives the feeling of a lounge and it relaxes your mood and mind. There is a cool box placed at center console between front seats which can be used for keeping drinks and more. Also there is a
Google Holder and Conversation Mirror
which stores your glares and conversation mirror ensures that everyone in the vehicle is included in the fun.
The four way vent of AC, two at front dashboard and 2 at each side of center console gives an effective cooling. AC has the option of Fully Automatic temperature control (FATC) which allows to set the cabin temperature at your chosen point and keep it maintained in your whole ride without requiring any intervention.
Steering Wheel supports tilt and telescopic adjustment and it comes handy to many drivers who likes to drive with some gap between steering and the person himself. It has buttons to toggle music controls, to activate voice controls, to control phone calls and the absolutely required "Cruise" Button which helps driver to maintain a constant preset speed without any keeping foot on accelerator. This feature is majorly used on highways when your out for a long drive.
The Tachometer is a Twin-POD instrument cluster with 3d Dials. It has inbuilt various tell-tale lamps and audible buzzers which keeps alerting driver in situation of seat belt fastening, low engine oil pressure, door open or over speeding etc.
The dashboard is what gains attention at first go. A 6-inch LCD touch screen which has all the controls inbuilt like music controls, temperature control, navigation control (GPS) along with state-of-the-art music system with FM. A 2 DIN music player with has CD/DVD/MP3 player capability and for having a disturbance free FM reception, antenna's are embedded in glass and over all 6 inbuilt speaks gives a crystal clear sound quality. The player also support iPOD connectivity and you can even control that too using the system interface. USB is also supported and and you can even play videos from it. Those 6 speakers include 2 tweeters which gives a great music experience. The music player even support pairing of phones with bluetooth and you can add max 5 phones at one go. Even for supported models, you can access your phonebook and can make and receive calls too.
The glove box includes a slot for laptop holder and a glove box lamp which turns ON automatically when the box is opened and turns off automatically when the box is closed.
The GPS has a database of 1.5 million kilometers of roads across 1200 cities with a turn-by-turn voice guidance system in English, Hindi & Eight other regional languages. The maps database also have over 5 million touch POI (point of interest) including resutrants, ATM's, Fuel Pumps and movie theaters.
There is one more good feature known as Driver Information System (DIS) which reports all vital information like how much more kilometers you can travel with existing amount of fuel present in fuel tank. It also monitors and controls the temperature of cabin as well as pressure and temperature of each tyre to avoid breakdowns.
Mahindra XUV 500 Exterior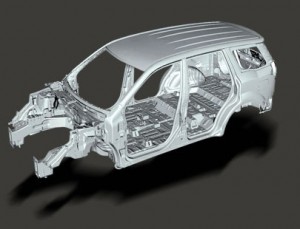 The international looks of this SUV is what makes this unique from other's SUV in its range. With some extra ordinary features providing at a strict budget SUV is really remarkable. Unique thing about exterior design is making its resemblance to CHEETAH looks. Its single shell design and monocoque construction which is currently available only on most higher range SUV's currently, gives a strong competition to its competitor. Its body and chassis (platform) are manufactured one piece which gives helps getting an excellent power-to-weight ratio and a smooth driving even at highly curvy places. This is the only monocoque SUV of Mahindra which is offering transverse engine too.
Front grills have a Jaws alike looks and honeycomb mesh and having bold lines cuts in body shapes gives its whole architecture a super aerodynamic design. If you looks at bold lines which starts from front and continue to rear lamp which gives it a quiet Macho looks. So side view is not disappointing at all and the detailing of curves is good. ORVMS are power foldable and and power adjustable which adjust himself as per driver adjustments and comfort. Whenever you lock or start the vehicle, these ORVMS automatically fold and unfold accordingly.

The headlamps are stylish and a row of LED lamps horizontally on each side. Side indicators are merged with headlamps assembly only. The lamp is fitted with a high intensity projector bulb rather than traditional halogen bulb. These headlamps have a unique feature of "Static Bending" when helps in a better and improved visibility by automatically illuminating the curve path turn. There are 2 fog lamps at almost bottom which enhance visibility during inclement, weather and hence increase safety factors.
If you observer door handles, they are given a shape of paw which gives total justice to its cheetah looks. The unique thing about them is you can operate door handles with just 2 fingers. The roof rails get merged very well with top looks and looks nice.
Alloy wheels which comes pre-fitted looks great and even at still position, gives appearance of being in motion. Coming to rear, it has twin exhausts which gives it resemblance to a racing car. These kind of small details gives some extra-ordinary importance and enhancement to looks. The tail lamps are mounted high to add a oomph looks to rear.
Mahindra XUV 500 Performance
With a remarkable 2.2 mHawk140 engine, it delivers power of 140 bhp and torque of 330Nm with a low rpm of 1600-2600 rpm which gives a comfortable drive even at places with high traffic. The engine is CRDi with 5th generation variable geometry turbocharger, which gives an acceleration of 0-60kmph in almost 5-6 seconds. It has a 6-speed manual Transmission and not any model currently offers automatic transmission. The cluth is Self-Adjusting which keeps padel effort same for new or for a worn out clutch. 4 wheel drive models have AWD (All Wheel Drive) system which distribute equal power between front and rear wheels and at same time whenever required, ITM (Interactive Torque Management) monitors wheel speed, steering positions and acceleration pedal position and distributes torque accordingly. Just i case, if a wheel begin to slip, torque is automatically directed to the wheels with traction. The suspension it has is a McPherson strut suspension at the frond and an independent multi-link suspension at the rear which has been tuned by one of the most famous name in motor sports named "Lotus". Also the Dual Mass Flywheel (DMF) reduces the vibration and harshness and gives feel of a comfortable gear shift.
Mahindra XUV 500 Mileage
When a person buy SUV, he/she usually doesn't care about mileage much, but since whenever we see high rising cost of fuels every month, one definitely consider knowing mileage too. So, Mahindra XUV 500 gives a mileage of 11-12 kmpl in city and nearly 14-15 kmpl on highways. As per ARAI certification, this SUV has a mileage of 15.1 kmpl which is not bad for owning a SUV.
Mahindra XUV 500 Safety
Following are the major safety features present in Mahindra XUV 500:
Electronic Stability Program (ESP) which continuously monitors the movement and directions of the car and whenever it detects loss of control, brakes get applied automatically and torque to relevant wheel is reduced till vehicle stability is restored. Rollover Mitigation detects unusual driving conditions that can lead to a crash and that time ESP system start to intervene and it start controlling vehicle speed for ensuring maximum safety.
6 Air Bags (2 at front and 4 at side and curtain) along with side impact beams and thoughtfully located crumple zones which don't just absorbs crash energy, but redirects it around the passenger compartment as well.
If your SUV is standstill at an inclined level, Hill Hold Control prevents rolling backwards of vehicle and If you driving steep incline, Hill Descent Control identifies that and engage the control system to assist the vehicle down the slope with caution.
Anti-Lock Braking System (ABS) with Electronic Brake-Force Distribution (EBD) which is a required feature for every SUV ensures that based on rate of deceleration during braking, the brake force is varied such that the rear wheel never gets locked preventing the vehicle from going to a spin.
All 4 wheels have Disc Brakes including lower pedal travel that results in a better pedal feel and high thermal dissipation which results in lower fade of braking at high speed and repeated braking solution.
Some More Important Features of Mahindra XUV 500
Rear Park Assist System (RPAS) which offers audio and visual warning on the infotainment system about the obstacles in the rear if the SUV comes within 120cm. You can get a rear-view camera installed at back which can show you a view of vehicle's rear while parking.
Intelligent Light Sensing Headlamps detects the level of ambient light outside and turns the headlamps on or off accordingly which helps that the driver may not get blinded even at dark tunnels.
Tyre Tronics gives live update of exact air, pressure and temperature in each type which helps ensuring the tyres have adequate pressure thereby enhancing safety and tyre life.
Micro Hybrid Technology helps conservation of fuel. It automatically puts the engine into standby mode for 2.5 seconds after you shift the gear to neutral at a signal or in bumper – to – bumper traffic. And whenever then the clutch is applied, the vehicle starts again and hence it gives more higher efficiency and lower CO2 emissions.
Digital Immobilizer is one of the biggest feature to prevent vehicle theft. It is backed up by an anti-theft warning system and the latest generation immobilizer.
Key Forgotten Reminder will remind the driver through a sound alert just in case if he/she forgets the key inside the vehicle while exiting.
Auto Lock And Unlock will lock the vehicle automatically when the car start moving and unlocks the vehicle automatically when the ignition is turned off. This system also unlocks the vehicle and switches on the hazard lamps automatically in case of any accident.
Remote Keyless Entry is a smart flip key that features buttons to lock and unlock the car, as well as open the rear hatch too.
Following are the major difference of features in above all 3 models:
| | | |
| --- | --- | --- |
| Mahindra XUV 500 Features (Model Wise) | W6 | W8 / W8-AWD |
| | | |
| Technology | | |
| Mhawk140 with 5th generation variable geometry turbocharger | Y | Y |
| Micro hybrid technology | Y | Y |
| 6-speed transmission | Y | Y |
| Static bending projector head lamps with LED parking lights | Y | Y |
| 6-inch colour touch screen infotainment display | N | Y |
| 6-inch monochrome infotainment display | Y | N |
| GPS Navigation with touch-screen and audio support | N | Y |
| Integrated music system with CD/MP3, iPod & USB connectivity | Y | Y |
| 4-Door speakers with 2 tweeters on dashboard | Y | Y |
| DVD player | N | Y |
| DIS in-built in infotainment system | Y | Y |
| Tyre-tronics | N | Y |
| Intellipark | Y | Y |
| Smart rain sensing wipers | Y | Y |
| Intelligent light sensing headlamps | Y | Y |
| Digital immobiliser | Y | Y |
| Digital trip & tachometer | Y | Y |
| Glass embedded antenna | Y | Y |
| | | |
| Safety | | |
| Dual airbags (Driver + Passenger) | Y | Y |
| Side & curtain airbags | N | Y |
| ABS with Electronic Brake-force Distribution (EBD) | Y | Y |
| Electronic Stability Program (ESP) with rollover mitigation | N | Y |
| Hill Hold and Hill Descent control | N | Y |
| Side impact beams | Y | Y |
| Crumple zones for crash protection | Y | Y |
| Tubeless tyres | Y | Y |
| Disc brakes on all wheels | Y | Y |
| | | |
| Style | | |
| Alloy wheels | N | Y |
| Full wheel caps | Y | N |
| Racing-styled twin exhaust | Y | Y |
| Front and rear fog lamps | Y | Y |
| Chrome Scuff plate for 1st and 2nd row | Y | Y |
| Streamlined Roof-rails | Y | Y |
| Cladding strips | Y | Y |
| Sporty dual tone interiors | Y | Y |
| Cubic-printed centre console with metal accents | Y | Y |
| Twin pod cluster with 3D-dials | Y | Y |
| | | |
| Comfort | | |
| Tilt power steering | Y | Y |
| Telescopic steering | N | Y |
| Fully automatic temperature control (FATC) & dual HVAC | Y | Y |
| Premium fabric seats | Y | N |
| Leather upholstery | N | Y |
| Power-adjustable ORVMs | Y | Y |
| Power-foldable ORVMs | N | Y |
| Centre arm rest with cup holders in 2nd row | Y | Y |
| 8-way adjustable seats including height and lumbar adjust (driver's side) | Y | Y |
| Height adjustable seat belts (front row) | Y | Y |
| | | |
| Convenience | | |
| Cruise, audio, phone controls & voice command switches on steering | Y | Y |
| Power windows with driver side express down | Y | Y |
| Remote tail gate opening | Y | Y |
| Flip key with remote central locking | Y | Y |
| Storage spaces on centre console | Y | Y |
| Reading lamps in all 3 rows | Y | Y |
| Conversation mirror | Y | Y |
| Tinted solar-reflecting glass | Y | Y |
| Mobile charging points | Y | Y |
| Rear wash and wipe | Y | Y |
| Rear demister | Y | Y |
| Follow-me home headlamps | Y | Y |
| Lead-me-to vehicle lamps | Y | Y |
| Illuminated key rings | Y | Y |
| Puddle lamps | Y | Y |
| Entry assist lamp | Y | Y |
| Door ajar lamps | Y | Y |
| Camping lamp | Y | Y |
| Remote fuel lid opener (electrically operated) | Y | Y |
| Glove box with laptop holder | Y | Y |
| Flexi seat configuration for convenient storage (60:40 fold 2nd row, 50:50 3rd Row) | Y | Y |
| Flat fold 2nd and 3rd row seats | Y | Y |
| Umbrella holder | Y | Y |
Final Conclusion
If you looking for a SUV who may roar on roads with you, who may give unmatched performance and looks may stun anyone with its first sight, this big beast is definitely a great choice for it.